Four Mistakes People Make on their Online Resume
by Tonya Lanthier
A recent survey revealed how much time hiring managers spend looking over each resume that hits their desk. Surprisingly, the most common response was four to five minutes. Although, when a separate study by a major career matching site conducted their own eye-tracking report, they found something far more revealing: hiring managers are only spending about six seconds per resume before making the decision to move it to the "don't call" list or reading on.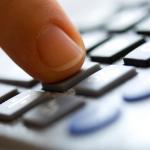 If the office manager looking over your resume is anything like those evaluated in this research, you only have six seconds for your resume to make an impression.
Here are four common mistakes that people make on their online resumes that you should avoid to make it past that initial first impression.
1.    Picture
Adding a professional picture adds value to your resume.  Employers want to see the face that essentially will be the face of the practice. A smile can convey confidence and get you the interview that you deserve.  If you have been uploading "selfies", shots taken in the car, or a shot that is not professional, do you think you are putting your best face forward? Consider the perspective of the office manager and ask a friend to take a professional looking picture of you.
2.    Grammar Errors
One of the most common mistakes you can make on your resume is posting it or applying to a job without first checking it for grammar errors. Office managers carefully review resumes and part of their hiring decision is based on your ability to communicate clearly and intelligently. Your resume is the first impression they see of you. If they see multiple grammar errors, it is likely they will move on to the next resume. Before you publish your resume online check for mistakes, misspelled words, abbreviated words (such as those you would only use in a text message), and other common grammar issues such as commas, periods, and semicolons. It is always worthwhile to get a second or even third pair of eyes to help you determine if there are any obvious mistakes.
3.    Your Autobiography
When discussing your previous experience, try to include details that pertain to the job in which you are perusing. Office managers are not concerned with the personal details about your life. Remember that office managers are looking to see how your previous experience will help you be successful at their practice. If you can link your previous work experience or other life experiences to the job in which you are applying, try to mention these details in a way that would show office managers why you would be a good candidate for the job.
4.    Incomplete Fields
Hiring office managers often complain about people who post resumes and apply to jobs with incomplete online profiles. When filling out an online resume make sure to fill out all the fields, even the ones that are not mandatory, to give yourself the best chance of getting hired. This includes filling out all the fields when you post your resume online or when you apply to jobs.
Conclusion
Making that great first impression is so important and can set you apart from the other candidates. To give yourself the best chance of getting past the first 6 seconds initial stages of the hiring process (i.e. your resume), make sure you avoid the above common mistakes. Being thorough and considering the perspective of the office manager will help you make a great impression and get you past even the most scrutinizing set of eyes.